This one's about music again — only this time, not music I've produced myself, but released by our label Dub Disco.
The Dub Disco 002 / DuDi002 Ep by our homies and good friends S&W has arrived and we reached so much love and feedback for it. I can't tell you the names of the two guys, since they wanna keep their music the main focus.
What Can I say about the DuDi002 Ep?
The 180g vinyl is pure gold. In the music scene nowadays, especially in the electronic music world, a lot sounds cold and monotonous. Not with us! Our music is smooth, full of colors and wonderful melodies, warm and alive.
Kinda understandable, then, that I have such good friends and of course the two guys created the second release on our label. A lot of my friends are musicians, DJs and producers – but hardly one of them in my circle of friends can write and produce music as good as S & W.
After only 5 days in the online vinyl shop decks.de the album has landed #1 in the House and Disco Charts. So awesome!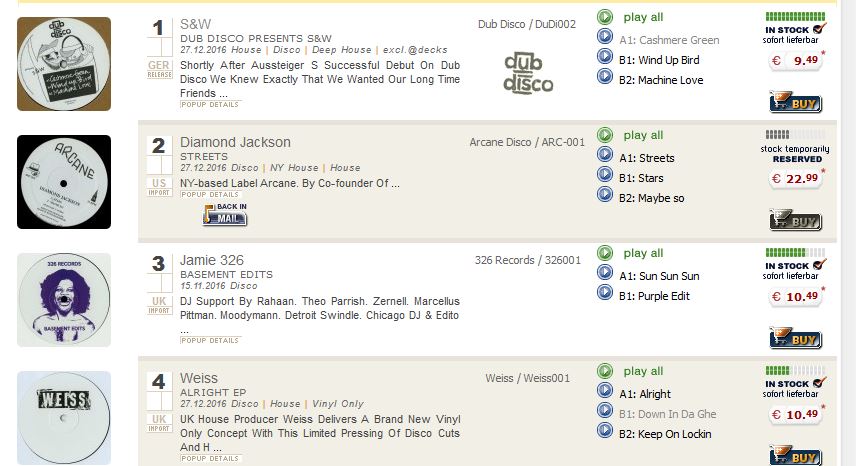 All 3 tracks are a bit different in style, but still combine into a wonderful singular experience. The Ep is super — 9 out of 10 points!
A1 Cashmere Green
is a wonderful, supple West Coast Banger with terrific synth melodies and 110 BPM beats that are smooth as a baby's bottom. The track is already classic. I don't care if anyone things we're megalomanics, full of ourselves. Cashmere Green is one of the best tracks in the year 2017. You can chill, daydream, let yourself go and even dance to it.
Wind Up Bird
is the underground House hymn on the B1 per se. After a somewhat long, amazing drum intro there's a short break after 2 minutes before the wonderful melodies set in with a bit of delay, which make me just melt. It's an absolute summer hit, category Top 10 House Tracks of the year.
Machine Love
is a nice peaktime banger with a hint of electro on the B2, which goes over wonderfully in clubs and the title already reveals what you can expect.
Because the tracks are so cool, A1 Cashmere Green and B1 Wind Up Bird premieres on SoundCloud and YouTube on the super dope music blogs of Les Yeux Orange and Ransom Note. That is wicked cool free promotion and brought new fans to my friends S&W and us! Below you can listen to the snippets of DuDi002:
In most record stores the Dub Disco presents S&W is already sold out. A few are still available here on decks.de.
Because most people don't have a record player, the Dub Disco 002 and 001 are in digital format on our Dub Disco Bandcamp Site.
Dub Disco 003 DuDi003 is already in its initial phases. The 3 tracks have to still be seriously mixed and arranged a bit, too. And they require some fine tuning and touch-ups here and there, so that the release will is full of magic and surprises, living up to our standards.
This post is also available in: German